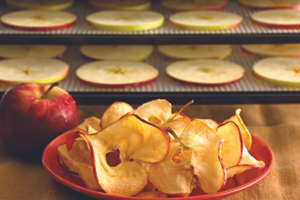 Dehydrated Apple Chips
The perfect snack. Great for trail mixes, school lunches, smoothie bowls or anytime you need a quick pick me up!
Fast & Easy - Simply cut and arrange pieces on the trays
Healthy - Dehydrated apples are full of minerals like potassium, sodium, and iron to keep you healthy. They also contain copper and magnesium in small quantities. They are made with zero fat content, and can be an amazing snack for you while you are trying to maintain your weight.
Delicious - Dehydration concentrates natural flavor, sweetness, and aroma. Fruits explode with mouth-watering, "natural candy" flavor that is for healthier than high-fat snacks and high-sugar sweets that are often filled with chemical preservative.
Easy to make, healthy and delicious!
Click here to download the recipe
Ingredients:
Directions:
Peel apples, if desired.
Remove core
Cut into rings, about 1/2cm thick. A mechanical peelerworks well for this.
To prevent browning, dip apple rings in lemon juice oran ascorbic acid solution. Drain the apples well.
Place on drying trays in your Excalibur Dehydrator.
Dry at 54.4°C for 5 to 6 hours.
Click here for more information or to order your Excalibur Dehydrator with free delivery throughout SA!