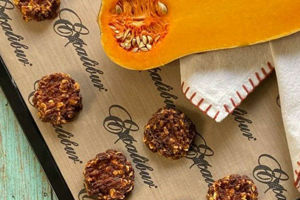 Ingredients:
4 cups cooked butternut squash, peeled and chopped
1 cup blanched almond flour
1 cup rolled oats
1/2 cup pumpkin puree
4 Medjool dates
1/2 tsp nutmeg
1/2 tsp cinnamon
3 tbsp raw honey
1 medium orange, juiced
Directions:
Process squash in a food processor. Place processed squash in a bowl and set aside.
Add rolled oats and blanched almond flour to squash.
Juice orange. Add orange juice, nutmeg, cinnamon and honey to squash mixture.
Mix thoroughly. Spoon mixture onto your Excalibur Dehydrator tray.
Using the back of a spoon, press each cookie to a 1.27cm thickness.
Dehydrate at 40,5°C for approximately 8-12 hours or until dry but soft.
Store cookies in airtight container in refrigerator.
Click here to download the pdf
Click here for more information or to order with free delivery throughout SA!