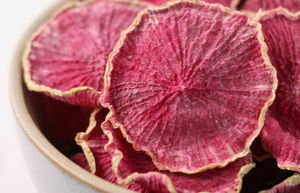 Ingredients:
Radishes
Salt
Directions:
Wash radishes well.
Cut off the stems and root ends of the radishes.
Slice radishes to 1/2cm thick using a mandoline.
Place radishes on Excalibur Dehydrator tray in a single layer. Do not overlap the slices.
Sprinkle salt over the chips. You can also add other desired seasonings (pepper, garlic, herbs, etc.)
Dry at 51°C for 5-9 hours or until crisp.
Click here to download the pdf
Click here for more information or to order with free delivery throughout SA!