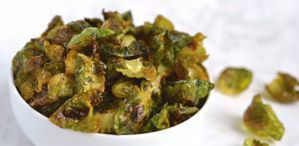 Ingredients:
500g brussel sprouts
2-3 tbsp sriracha
1 1/2 tbsp agave
1 tsp soy sauce 
1 pinch sea salt
Directions:
Remove the leaves from the brussel sprouts by cutting the stem as you go to make it easier to peel the layers.
Mix 2 tbsp sriracha, agave, soy sauce and sea salt in a small bowl.
In a mixing bowls, toss brussel sprout leaves and sriracha mixture until coated fairly evenly. Add more sriracha if a spicier chip is desired or youneed more sauce to coat leaves.
Place brussel sprouts in an even layer on a ParaFlexx lined Excalibur Dehydrator tray. Make sure they are not touching or overlapping.
Dry at 46ºC for 10 hours or until crisp.